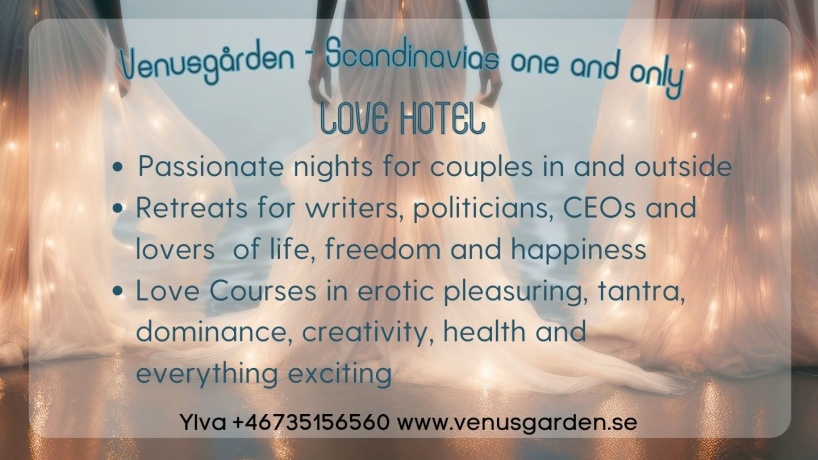 Flying University Venusgården presents
an extraordinary curriculum in many forbidden, censored and sometimes
very exciting themes:

EROTIC LOVE: tantra (courses and massage), erotic pleasuring, bdsm-light (dominance for women/submission for men), erotic communication, lust, orgasming, sexual wellness.
POLITICS: direct/free democracy, local democracy, free activity groups.
SELF DEVELOPMENT: masculinity/femininity, freedom, free relations, hypnosis, alternative health and diets, entrepeneurship, weapons and shooting and Swedish hunting exams.
CREATIVE WRITING: short stories, novels, poetry, commercial text.
YOU NAME IT-COURSES: every imaginable course - we fix for you!
OUR TEACHERS
are simply the best:
KATERINA JANOUCH/YLVA FRANZÉN
: everything erotic
JOHAN LINDBLAD
: politics
THOMAS LYON
: shooting/hunting
Half or wholeday courses in Venusgarden, small groups of 2-8, overnight stays if you wish. Also privately, in retreat style. Discretion guaranteed. Prices upon request.
RETREATS FOR WRITERS, POLITICIANS, CEO´S AND LOVING COUPLES
wanting inspiration, counselling och wisdom in life in a harmonius and if you wish romantic/erotic setting in the beauty and soul of nature and Venusgarden.
PHILOSOPHICAL/EROTIC/OPEN SALONS
in the summer evenings.
Do contact
YLVA
for more information and courses you wish for +46735156560.

Courses 2024...and more to come:

PROSTRATE MASSAGE FOR COUPLES, theory and practice, May 25, July 21 2024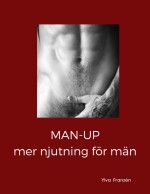 A 4-hour course on either of the dates above, 13-17 pm. Max four couples. Price 1500 SWcr/couple. Place: the lustroom at the farm.
The course is based upon Ylva´s latest book: MAN-UP, MORE PLEASURES FOR MEN, available as an e-book at afroditesapotek.se.

This course gives you the know how to more intense orgasms for men and might even revolutionize your sexlife.

Write to Ylva at eroteach@hotmail.com or phone +46735156560 if you want to attend